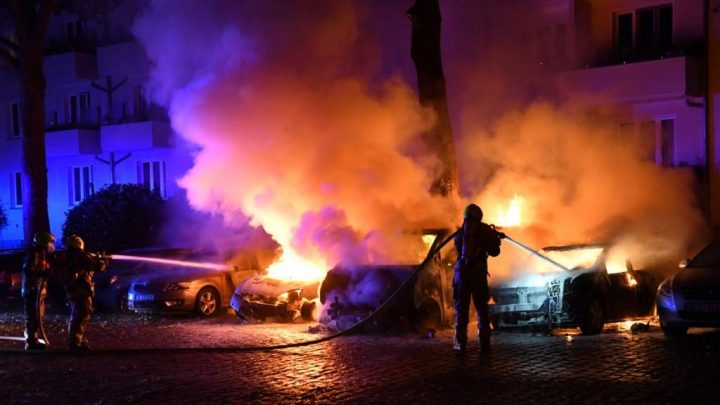 In the night from 03.08.2021 to 04.08.2021, we torched Vonovia company cars in Berlin Mitte and in Lichtenberg.
Not much more needs to be said about Vonovia. They are real estate sharks and big capitalists worth billions. They are currently planning to take over Deutsche Wohnen for the third time. In capitalism, there are many responsible companies and individuals who ensure its continued existence through their existence. Vonovia, like many others, is certainly one of them.
But this arson is not a revenge action against their company policy.
It is meant to be a flaming call to do even more damage to property against the city of the rich and to fight for a society without hierarchies and authorities. In order to leave the age of exploitation and oppression behind us, the existing social tensions must be brought to escalation. The prerequisite for this is the symbiosis of theory and practice. We decide what, when is important for us, so attacks on the symbols and leaders of capitalism, among other things, can happen in the spotlight of the media or in the dark of the night. This time we have chosen the night. From an objective point of view, it is always to the advantage of politics and law enforcers if the subversives are accountable by acting in a temporally and spatially limited way. Subversion can be lived out, but only if it is not dictated by the guardians of the existing. This can also mean taking advantage of a demonstration to launch targeted attacks in order to eventually get into a confrontation with the cops, or instead of forcing a positional war against evictions, to occupy other houses. It would be fatal if the repression, the actions and the way of thinking of the authorities, would inhibit our insurgent ideas. We would become dependent on them and always react instead of deciding for ourselves what, when and how to attack or build.
This time it was a few cars, who knows what tomorrow will bring. Arson is only one of many tools that gives expression to destructive tendencies. It is up to us.
Source: Kontrapolis