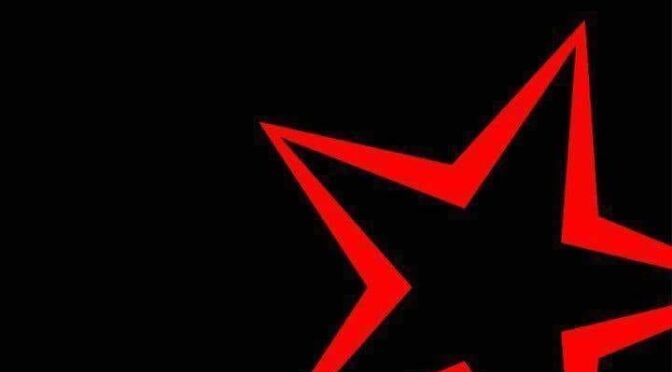 For Alfredo Cospito
Text of Solidarity by the Members of Revolutionary Struggle
Pola Roupa and Nikos Maziotis
The physical and moral extermination of revolutionary fighters and political prisoners, or the coercion of them into political renunciation and repentance, has been the goal of the State and capital throughout time. In order to achieve this aim, States have created special conditions of detention and isolation for those who took up arms against the regime, for those they call "terrorists".
One example of special detention today is the Italian model under Article 41 bis.
Under Italian law, the Minister of "Justice" is given the right to lift the rules of treatment of some prisoners and order their transfer to special conditions of detention. The special conditions based on Article 41 bis impose complete social and sensory isolation, limiting contacts with other prisoners, limiting visits to one (1) per month with relatives, not by physical contact but through a glass partition, limiting, prohibiting, correspondence and the possession of books, shrinking prisoners' exercise period to one (1) hour per day and increasing the time of confinement inside the cell.
These conditions are a form of torture aimed at crushing militant prisoners and in general those under this regime.
Anarchist comrade Alfredo Cospito, who is convicted for actions of Federazione Anarchica Informale ('Informal Anarchist Federation', FAI), has been under this regime since May 5, 2022 in Bancali prison (in Sassari) in Sardinia on orders of the former Minister of "Justice" Marta Cartabia. The comrade has been on hunger strike against the solitary confinement regime since 20th October. Three comrades have also been on hunger strike in solidarity with comrade Alfredo, Juan Sorroche since October 25th, Ivan Alocco imprisoned in France since October 27th and Anna Beniamino since November 7th.
This repressive policy of States using special conditions of detention is something that has been going on for decades and has developed and grown.
It was started by the United States, as early as the 1960s, with maximum security units inside prisons where members of organisations such as the Black Panthers, the BLA, for example, were held.
In the 1970s, the West German State built the white cells in Stammheim where members of the RAF were held, four of whom were killed between 1976 and 77.
Britain built special detention conditions for IRA prisoners in which 10 IRA prisoners died of hunger strike in 1981. This coincided with the then Thatcher government's reform which reversed the previous regime by not recognising the political status of IRA fighter prisoners.
In Spain, special detention conditions were provided by the FIES units, while in 2000 the Turkish State created the F' prisons to isolate and crush the revolutionary fighters who until then had been living in communities, grouped in cells.
When the Turkish revolutionaries went on hunger strike in December 2000, many were murdered after the security forces and the army intervened.
The great hypocrisy of States and judicial authorities is that while they do not recognise the status of political prisoner or political opponent outside the State representative system, they apply special laws, so-called "anti-terrorist" laws, conduct special courts in prisons, and formulate special conditions of detention for members of guerrilla organisations, for revolutionary fighters.
The Italian State is one of the most innovative in the development of this repressive policy.
At the end of the 1970s, while the Italian State was facing a high-intensity guerrilla war, it modernised its criminal arsenal by introducing 'anti-terrorist' legislation, while creating special prisons or special security wards reserved primarily for members of guerrilla organisations such as the Red Brigades. There was also the Cossiga law implemented from 1978 to 1983 that legalised torture to extract information to dismantle guerrilla organisations and the laws on penitents were passed.
The detention regime under Article 41 bis is an evolution for the worse of this repressive policy.
In addition to comrade Cospito, this regime also includes three (3) political prisoners, members of Brigate Rosse per la costruzione del Partito Comunista Combattente ('Red Brigades for the construction of the Combatant Communist Party', BR-PCC), arrested in 2003, Nadia Lioce, Marco Mezzasalma and Roberto Morandi.
Another imprisoned comrade of BR-PCC, Diana Blefari, who had been held for years in solitary confinement in the 41 bis regime, committed suicide.
It is certain that here in Greece, too, the State dreams of similar conditions of detention for revolutionary fighters.
A first attempt to create such conditions was the type C prisons in 2014, which were built primarily for those convicted of armed action but were abolished after a hunger strike by political and anarchist prisoners in the spring of 2015.
Today, with the new Penitentiary Code recently passed by the government of New Democracy, prisons or wards of "increased security" are formed, which among other things are intended for prisoners convicted as guerrillas – article 19A of the Penitentiary Code –, i.e. according to the "anti-terrorism" law, 187A, as well as for other "undisciplined" prisoners. In these "high security" prisons there is no clear framework as to what conditions will prevail inside them, but it is very likely that the Greek State will attempt to apply solitary confinement conditions along the lines of American and European standards, along the lines of the Italian Article 41 bis, i. e. to undo the rules for the treatment of prisoners as in force in other Greek prisons.
Struggles against such conditions of detention, which are forms of torture, are imperative in the context of the struggle against the State and capital.
That is why no prisoner like comrade Alfredo Cospito should be left alone.
SOLIDARITY TO THE ANARCHIST COMRADE ALFREDO COSPITO
SOLIDARITY TO ALL THE UNREPENTANT REVOLUTIONARY FIGHTERS
The imprisoned members of the Revolutionary Struggle
Pola Roupa – Nikos Maziotis
[November 2022]
[Translated by https://actforfree.noblogs.org/post/2022/11/16/greece-en-it-eltext-of-solidarity-for-the-comrade-alfredo-cospito-by-prisoners-members-of-revolutionary-struggle-pola-roupa-and-nikos-maziotis/ and slightly corrected by https://lanemesi.noblogs.org/post/2022/11/16/pola-roupa-and-nikos-maziotis-for-alfredo-cospito-text-of-solidarity-by-the-members-of-revolutionary-struggle-greece-november-2022/]
* * *
(IT) Pola Roupa e Nikos Maziotis: Per Alfredo Cospito. Testo di solidarietà dai membri di Lotta Rivoluzionaria (Grecia, novembre 2022)
(EL) Πόλα Ρούπα και Νίκο Μαζιώτη: Για τον Αlfredo Cospito. Κείμενο Αλληλεγγύης από τα μέλη του Επαναστατικού Αγώνα
(EN) Pola Roupa and Nikos Maziotis: For Alfredo Cospito. Text of Solidarity by the Members of Revolutionary Struggle (Greece, November 2022)