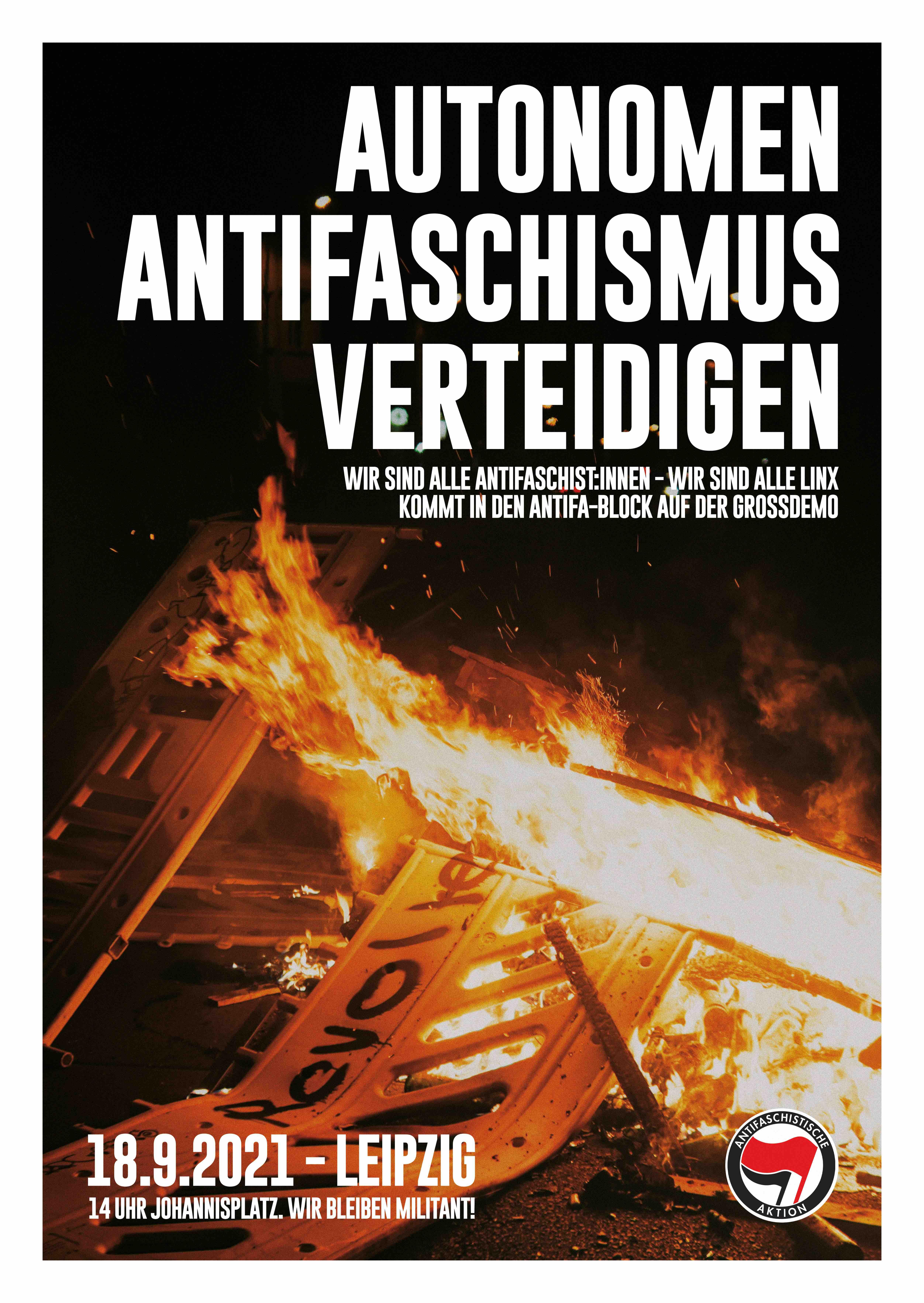 Kommt am 18.09.2021 zur Grossdemo "Wir sind alle Antifaschist*innen – Wir sind alle LinX" nach Leipzig in den Antifa-Block!
Am 8. September 2021 startet in Dresden ein medial groß inszeniertes Justizspektakel, in dem Lina und drei weiteren Gefährt*innen der Prozess gemacht werden soll. Seit November 2020 sitzt Lina – ihrer Freiheit entzogen – im Knast in Chemnitz. Grund dafür ist der Vorwurf, Angriffe auf gewalttätige Neonazis in Ostdeutschland durchgeführt zu haben. Gleichzeitig rückt die Urteilsverkündung im Prozess gegen Jo und Dy in Stuttgart immer näher. Auch ihnen werden Angriffe auf FaschistInnen vorgeworfen und auch sie wurden zeitweilig inhaftiert bzw. sind es immer noch. Die damit verbundenen Verfahren nach dem Paragraphen 129(a) sind der Höhepunkt eines steigenden Repressionsdrucks gegen Antifaschist*innen, welcher bundesweit spürbar ist, sich aber in den letzten Jahren auch in Leipzig konzentriert.
Diese Repression richtet sich allerdings nicht gegen alle Antifaschist*innen. Sie richtet sich nicht gegen einen oft beschworenen "zivilgesellschaftlichen Antifaschismus", welcher sich allzu oft darauf ausruht, beim gemeinsamen Bratwurstessen gegen Rechts "Gesicht zu zeigen" und sich selbst zu vergewissern, ein besseres oder bunteres Deutschland zu verkörpern, als die Neonazis es gerne hätten. Der staatliche Angriff richtet sich nicht gegen einen Antifaschismus, der darauf abzielt, den FaschistInnen zu zeigen, dass "wir mehr sind" – ein Ansatz mit dem sich die antifaschistische Linke schon immer selbst belog, um das eigene Gewissen zu beruhigen. Ein solcher Antifaschismus ist längst Teil der politischen Selbstinszenierung des deutschen Staates geworden, welche hilfreich dafür ist, die eigene nationalsozialistische Vergangenheit doch endlich hinter sich zu lassen und sich als geläuterte Nation darzustellen.
Die aktuelle Repressionswelle richtet sich vielmehr gegen einen Antifaschismus, welcher aus dem Unwillen des Staates und der Gesellschaft, FaschistInnen effektiv in die Schranken zu weisen, praktische Konsequenzen zieht. Einen Antifaschismus, der eine militante Praxis als elementaren und notwendigen Bestandteil begreift. Einen autonomen Antifaschismus, welcher die Legitimität seiner Praxis nicht aus dem bürgerlichen Gesetzbuch zieht, sondern aus der Frage, inwiefern er erfolgreich ist oder nicht. Kriterium für diesen Erfolg ist die Effektivität und die Notwendigkeit, Neonazis an dem zu hindern, was sie tun, wenn wir sie lassen: Netzwerke aufbauen und eine mörderische Ideologie verbreiten, welche rechte Gewalt und rechten Terror organisieren.
Diese Strukturen anzugreifen ist und bleibt notwendig. Neonazis sind AnhängerInnen einer Ideologie, welche ihre TrägerInnen jederzeit zur Ausübung (mörderischer) Gewalt legitimiert und anstachelt, solange sie keine Konsequenzen für sich selbst zu befürchten haben. Neonazis und andere FaschistInnen sind tickende Zeitbomben. Die Erfahrungen im Umgang mit rechter Gewalt in Deutschland zeigt, dass neonazistische TäterInnen meist mit keinen ernsthaften juristischen Repressionen rechnen müssen. Im Gegenteil: Durch milde Strafen werden diese meist eher in ihrem Selbstbild bestärkt, mit ihrer Gewalt den "Willen des Volkes" zu vollstrecken, welche diese zu weiteren Taten motiviert. Geschützt werden in Deutschland nicht die Betroffenen rechter Gewalt, sondern immer nur die TäterInnen und die verschworene deutsche Volksgemeinschaft, die deckend dahinter steht. Diese Straflosigkeit und Ermunterung von Neonazis gilt es zu brechen.
Jede dieser tickenden Zeitbomben, die kurzzeitig aus dem Verkehr gezogen wird – auch durch einen Krankenhausbesuch – bedeutet weniger Gefahr für alle Menschen, die in der völkischen Ideologie der Nazis keinen Platz haben.
Des Weiteren reichen neonazistische Netzwerke weit in staatliche Institutionen und "Sicherheitsapparate", wie beispielsweise der Nationalsozialistische Untergrund und das Hannibal-Netzwerk zeigen. Wir streben trotzdem keine "Verbesserung" dieses Staates und seiner Organisationen an, sondern lehnen Staat und Nation ab. Es gilt weiterhin, die Verhältnisse umzuwerfen und eine bessere Gesellschaft für alle Menschen zu schaffen.
Die Konsequenz aus der gestiegenen staatlichen Verfolgung muss es sein, den antifaschistischen Selbstschutz zu organisieren und auszubauen. Der aktuelle Repressionsdruck zielt darauf ab, genau diese Form der Organisierung zu verunmöglichen. Das bedeutet konkret einen staatlichen Angriff auf die Handlungsfähigkeit und die körperliche Sicherheit von allen autonomen Antifaschist*innen und ihrer Gefährt*innen. Diesen gilt es zurückzuschlagen!
Kommt am 18.09.2021 nach Leipzig zur Demo des Bündnisses "Wir sind alle LinX" und schließt euch dem Antifa-Block an.
Hier wollen wir eine autonome antifaschistische Perspektive auf der Demo sichtbar machen und laden bundesweit ein, daran Teil zu haben und diese aktiv mitzugestalten.
Angriff ist und bleibt die beste Verteidigung!
Source: Kontrapolis
---
EN: Leipzig, Germany: We remain militant – defend autonomous antifascism!
Come to the big demonstration "We are all antifascists – We are all LinX" on 18.09.2021 in Leipzig in the Antifa-Block!
On September 8, 2021, a large-scale judicial spectacle will start in Dresden, in which Lina and three other companions will be tried. Since November 2020, Lina – deprived of her freedom – has been sitting in prison in Chemnitz. The reason for this is the accusation of having carried out attacks on violent neo-Nazis in eastern Germany. At the same time, the verdict in the trial of Jo and Dy in Stuttgart is drawing ever closer. They too are accused of attacks on fascists and they too were temporarily imprisoned or still are. The associated proceedings according to paragraph 129(a) are the culmination of an increasing pressure of repression against antifascists, which is noticeable nationwide, but in recent years also concentrated in Leipzig.
However, this repression is not directed against all antifascists. It is not directed against an often invoked "civil antifascism", which all too often rests on "showing face" against the right while eating bratwurst together and reassuring itself that it embodies a better or more colorful Germany than the neo-Nazis would like it to be. The state attack is not directed against an anti-fascism that aims to show the fascists that "we are more" – an approach with which the anti-fascist left has always lied to itself in order to soothe its own conscience. Such anti-fascism has long since become part of the German state's political self-dramatization, which is helpful in finally leaving its own National Socialist past behind and presenting itself as a purified nation.
The current wave of repression is rather directed against an anti-fascism that draws practical consequences from the unwillingness of the state and society to effectively put fascists in their place. An antifascism that understands a militant practice as an elementary and necessary component. An autonomous anti-fascism, which does not draw the legitimacy of its practice from the bourgeois code, but from the question, to what extent it is successful or not. The criterion for this success is the effectiveness and the necessity to prevent neo-Nazis from doing what they do, if we let them: Build networks and spread murderous ideology that organize right-wing violence and terror.
Attacking these structures is and remains necessary. Neo-Nazis are followers of an ideology that legitimizes and incites its bearers to commit (murderous) violence at any time, as long as they do not have to fear any consequences for themselves. Neo-Nazis and other fascists are ticking time bombs. Experience in dealing with right-wing violence in Germany shows that neo-Nazi perpetrators usually do not have to expect serious legal repression. On the contrary, lenient punishments tend to reinforce their self-image of carrying out the "will of the people" with their violence, which motivates them to commit further acts. In Germany, it is not the victims of right-wing violence who are protected, but only the perpetrators and the conspiratorial German national community that stands behind them. This impunity and encouragement of neo-Nazis must be broken.
Each of these ticking time bombs that is taken out of circulation for a short time – even by a hospital visit – means less danger for all people who have no place in the Nazis' völkisch ideology.
Furthermore, neo-Nazi networks reach far into state institutions and "security apparatuses," as shown, for example, by the National Socialist Underground and the Hannibal Network. Nevertheless, we do not strive for an "improvement" of this state and its organizations, but reject state and nation. It is still necessary to overturn the conditions and to create a better society for all people.
The consequence of the increased state persecution must be to organize and expand antifascist self-protection. The current pressure of repression aims at making exactly this form of organizing impossible. This means concretely a state attack on the ability to act and the physical security of all autonomous antifascists and their companions. This must be beaten back!
Come to Leipzig on 18.09.2021 to the demo of the alliance "We are all LinX" and join the antifa block.
Here we want to make an autonomous antifascist perspective visible on the demo and invite nationwide to participate and actively shape it.
Attack is and remains the best defense!