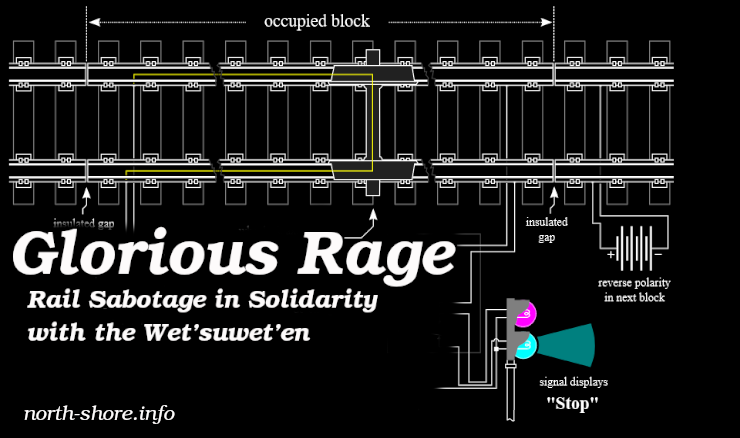 There is nothing left unsaid.
RCMP Out.
CGL off the Yintah.
Defend the Wedzin Kwa.
This is an act of genocide. An active genocide.
An armed invasion by the colonial state.
There is nothing left to say: they do not listen to words.
So just do; that is what we have done.
One recent evening, allies/accomplices went out into the night to pick up where others may have left off in the spring of 2020: targeting rail infrastructure.
Using various methods (detailed below for your reference, education and delight!) we disrupted rail all over so-called southern Ontario throughout the night, hitting nearly a dozen different spots on both CN and CP rail lines. We did this in heartfelt solidarity with the Wet'suwet'en defending their Yintah from destruction, and fuelled our actions with the justified rage we feel towards the RCMP and state for once against invading their territory on behalf of a private corporation.
Rail was a harbinger of colonized settlements and the genocide of Indigenous peoples across so-called Canada, and also an indefensible way to target the kkkanadian economy, so we find it an ideal target as people unable to be standing shoulder to shoulder with the Wet'suwet'en land defenders.
While some crews opted for the copper wire method, others found inspiration in other means of targeting railway circuits – including severing low voltage track circuits and the arson of railway signal bungalows.
Each method used will have tripped the automatic block signalling system into its failsafe setting of "occupied track" – meaning all rail traffic on the impacted track comes to a stop until checked out and in some cases repaired. This also means interferences were safer than any of the militarized RCMP's three unjustified raids on Wet'suwet'en people.
We encourage others to join us in action. Use your words to inspire others to action – not to beg for change from government bodies complicit in an active genocide.
Shut it down. That's all there is left to do.
Never Cede
Never Surrender.
Burn it to the ground if that's what it takes.
Continue reading "Canada: Glorious Rage – Rail Sabotage in Solidarity with the Wet'suwet'en" →