We are not friends of big speeches and sometimes there is therefore not too much to write. The Denn's Biomarkt on Antonplatz in Berlin is certainly not the largest, nor the most beautiful of its kind. Nevertheless, we took the trouble – from Tuesday to Wednesday the 19.10. – to leave a few stones and spray "You are the crisis" on the entrance.
Denn's Biomarkt we can populistically call the extended arm of the Greens in the neighborhood. Those who have long had to turn over every penny can't afford to buy supposedly fair-trade, socially acceptable and carbon-neutral lavender-apple smoothies. Denn's oh-so-worldly appeal makes us lose our appetite. Good for the wallet, bad for the soul. We have remedied the crisis mood for a short moment.
Greetings to the "Everything just stolen!" people (translated below), who have taken heart and have quite obviously had a good bite, and also to the everyday criminals, who naturally take their lives in their own hands, bypassing the state and capital!
Source: Kontrapolis
---
Everything just stolen!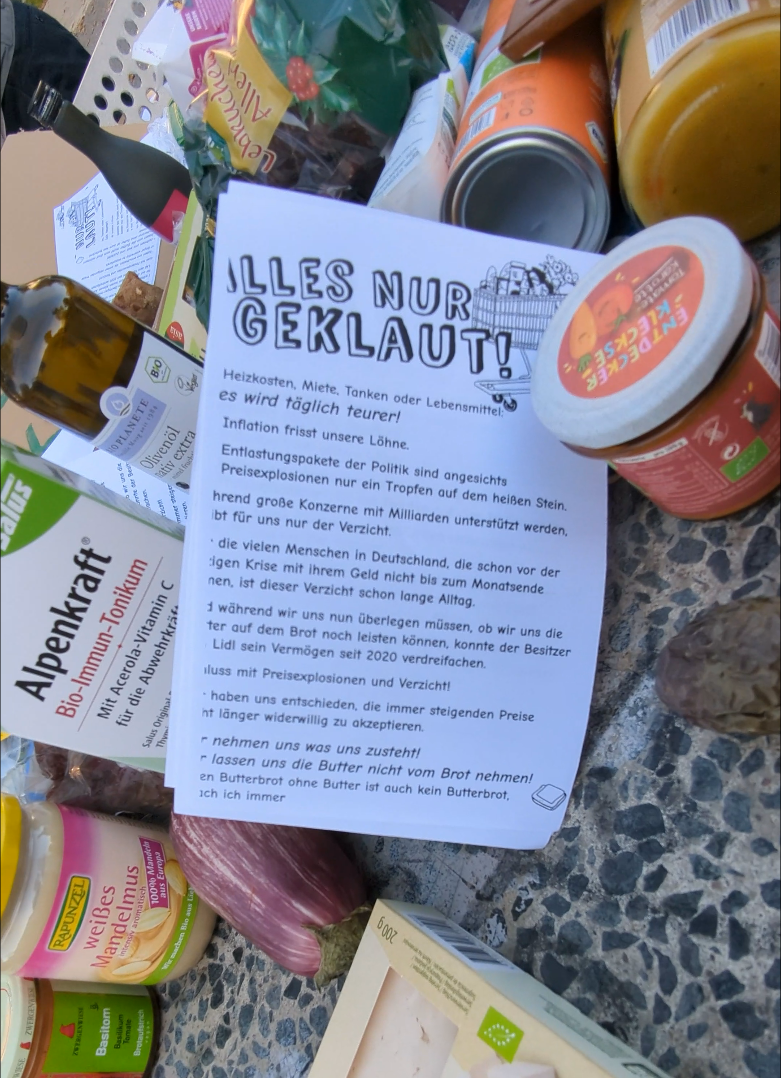 Hey,
we were today at denns plundering, have captured and distributed goodies worth 900Euro. Others have done it before us, hopefully more will do it after us. Here's to the hot autumn of looting!
Everything only stolen! Whether heating costs, rent, gasoline or food: Everything becomes daily more expensive! The inflation eats our wages. The relief packages of the policy are in view of the price explosions only a drop on the hot stone. While large corporations are being supported with billions, the only option for us is to do without. For the many people in Germany who were already struggling to make ends meet before the current crisis, this sacrifice has long been part of their everyday lives. And while we now have to consider whether we can still afford the butter on our bread, the owner of Lidl has been able to triple his fortune since 2020. No more price explosions and doing without! We have decided to no longer grudgingly accept the ever-increasing prices. We take what is rightfully ours! We don't let them take the butter off our bread (lol) – a sandwich without butter is no sandwich, I always say.
Source: de.indymedia