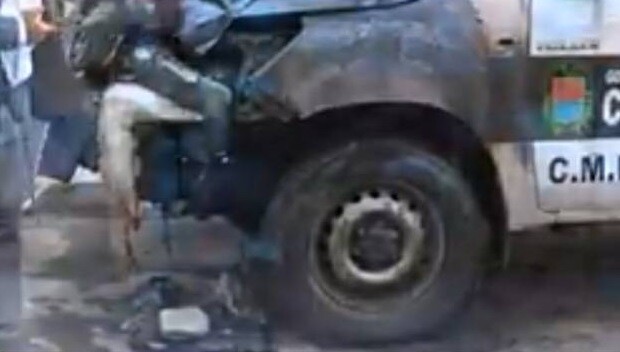 In the early morning of September 12, at 2:40 a.m., we placed an incendiary device composed of four half-liter plastic bottles with gasoline, tied with adhesive tape, which were set on fire by means of a wick that we assembled with 5 matches and 3 incenses tied with rubber bands.
We placed this rudimentary device behind one of the front wheels to ensure that the main damage was in the engine area.
Although all of their cars are incendiary, the choice of a Special Anti-Violence Force van is not random. There is no exception, every police force is the enemy and we don't buy their song and dance about fighting against gender violence. The patriarchy will fall when the last stone of this prison society falls. We abhor their gendered capitalism. We abhor its State spawn forced on unfathomable differences to satisfy the needs of post-colonial oligarchies. We do not demand anything from the institutions, we do not want any police in our neighborhoods and communities with the story of women's security. You, murderous cops, are the phallus (now scorched) of patriarchy!
We had a lot of fun imagining how you tried to put out the fire with your little buckets, you lackeys!
This action is for María Fernanda murdered by the police in the EPI of Chasquipampa in 2021, as well as for all those raped and murdered by this enemy institution. We do not want reforms of the police, we want its destruction! We do not demand the judiciary or its ministries, we want to see them burn! We invite you to set fire to their vans with this simple system that we have proven to be effective. It is easy and fun. Continue reading "Cochabamba, Bolivia: Claim of arson attack against patrol car of the Fuerza Especial de Lucha Contra la Violencia (Special Force to Fight against Violence)" →