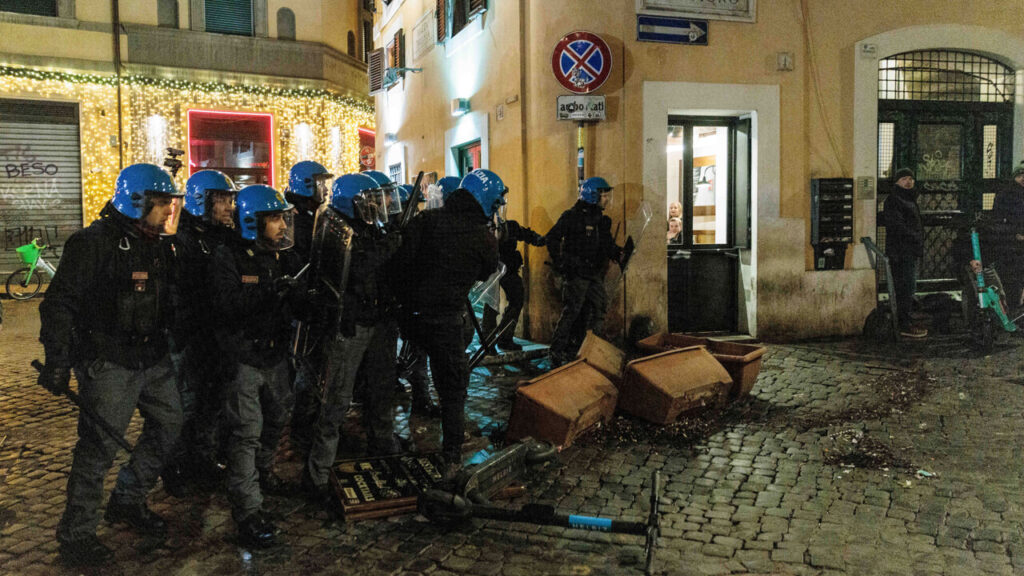 Clashes and demonstration in Trastevere in solidarity with Alfredo Cospito on 101st day of hunger strike (Rome, Jan. 28, 2023)
We publish a brief contribution on the demonstration held on Saturday, January 28 in Rome in solidarity with comrade Alfredo Cospito at 101 days into his hunger strike. Near the concentration in Piazza Trilussa–which lasted a few hours and from which a procession had failed to leave–after some of those present had deflected out of the encirclement, there were some clashes with the repressive forces, shortly thereafter in trouble due to finding themselves partially surrounded and the determination of comrades to hold the streets (but who did, however, manage to stop a comrade near Piazza Trilussa). After the clashes, a procession was held in the alleys of Trastevere.
At the end of the procession several dozen comrades were stopped by DIGOS, riot police, and carabinieri. All 41 people stopped during the day, who were taken to police headquarters and released without restrictions as of the early hours of Sunday 29, were charged with Article 337 c. p. (resistance to a public official). We reproduce below a brief information note released on January 29 itself.
In these days when the comrade's health condition is rapidly and dramatically worsening, with this initiative the comrades present affirmed the importance of a presence and consequent confrontational practice to be held in the streets, in solidarity with Alfredo and in support of the hunger strike. Let us continue the struggle with anger and determination. Get Alfredo out of 41 bis!
* * *
Yesterday in Rome street fight against 41 bis and hostile life imprisonment, with Alfredo Cospito on hunger strike for 101 days. Police wanted to surround the protesters, remained surrounded. The celere in total confusion charged the DIGOS twice, managing to send one of them to the hospital. The piazza chief wanted to prevent a harmless procession, had two hours of wild marching through Trastevere, which resisted by barricading itself and repelling numerous charges in the alleys.
While it is true that a good part of the 41 stopped could have been avoided if it had been realized a few minutes earlier that the party was ending, this does not detract one iota from the message of anger at our comrade's now imminent execution coming from the streets. In fact, if anything, it reinforces it.
A big thank you to all the rebels and solidarity with all those who have been charged.
Long live anarchy!
Source: La Nemesi