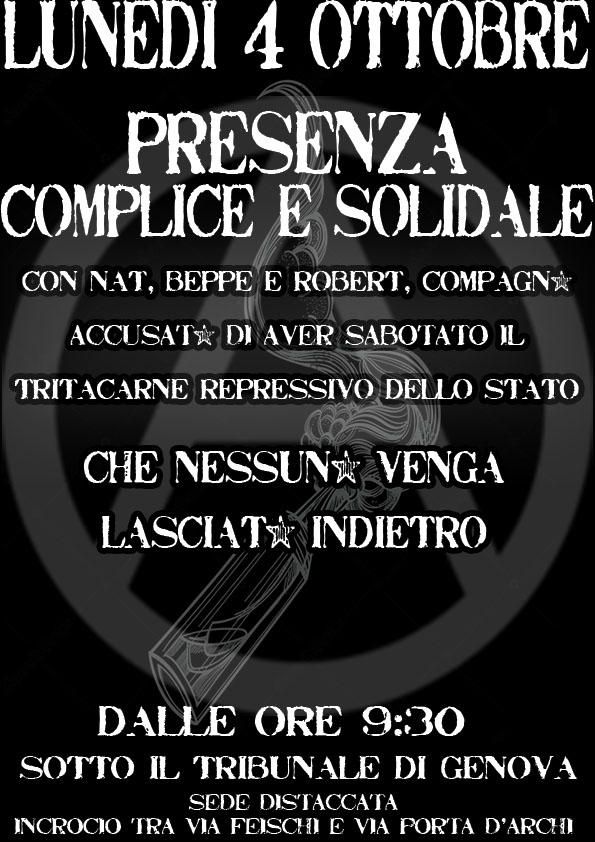 On Monday, October 4, 2021, at the Court of Genoa, the first-degree sentence will be passed in the "Prometeo" trial in which three comrades, Natascia, Beppe and Robert, are accused of sending parcel bombs against two former prosecutors from Turin, Sparagna and Rinaudo (prosecutors who have been involved in the repression of struggles for years), and against the former director of the DAP ("Department of Penitentiary Administration"), Santi Consolo, one of the people responsible for the torture that tens of thousands of prisoners suffer on a daily basis.
The prosecutor Federico Manotti, already known for his repressive fury against many anarchist comrades, asked for a total sentence of half a century in prison: 17 years for Natascia and Robert and 18 years and 4 months for Beppe. The main charge is article 280, i.e. attack with terrorist purposes.
Natascia and Beppe have been in prison for two and a half years, having been transferred countless times from one end of the peninsula to the other.
It is evident how the state raises the bar of repression when it feels its untouchable cornerstones are threatened, intervening with requests for disproportionate penalties precisely to dissuade those who oppose it.
By means of prisons, CPRs (Centri di Permanenza Temporanea, "Temporary Detention Centres", prisons for migrants), preventive measures such as special surveillance and fogli di via (the obligations not to enter certain municipalities or provinces) and decrees that increasingly marginalise minorities, the state attempts to instil its daily dose of terror in those who are considered inconvenient or non-aligned.
INSIDE PRISONS AND TEMPORARY DETENTION CENTRES, AS WELL AS OUTSIDE, ARE THE STATE AND ITS SERVANTS THAT CARRY OUT THE MASSACRES.
WE WILL NOT ALLOW THE DEMANDS OF THE PUBLIC PROSECUTOR'S OFFICE AND ITS PERSECUTORS TO BE CONFIRMED IN SILENCE.
WE CALL URGENTLY FOR A SOLIDARITY-BASED AND ANGRY PRESENCE.
MONDAY, OCTOBER 4, 2021, AT 09:30 AM IN FRONT OF THE COURT OF GENOA (BRANCH) AT THE CORNER OF VIA FIESCHI AND VIA PORTA D'ARCHI.
IN SOLIDARITY AND COMPLICITY WITH NATASCIA, BEPPE AND ROBERT! IN ANY CASE NO REMORSE!
[PDF, in italian language: Operazione Prometeo: presenza solidale e complice lunedì 4 ottobre davanti al tribunale di Genova].