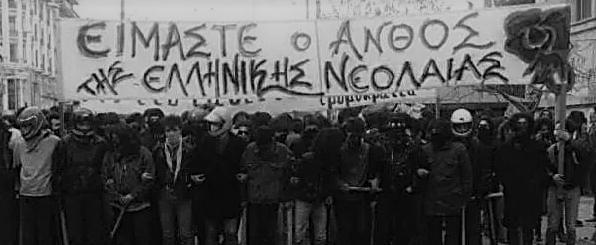 Support economically and politically the 4 persecuted comrades, who are under trial at 6 February 2023. The 4 anarchists are being persecuted, under "anti-terrorist" law, for participating in an allegedelly "terrorist" organization named "comrades". No one alone against the state! International revolutionary solidarity!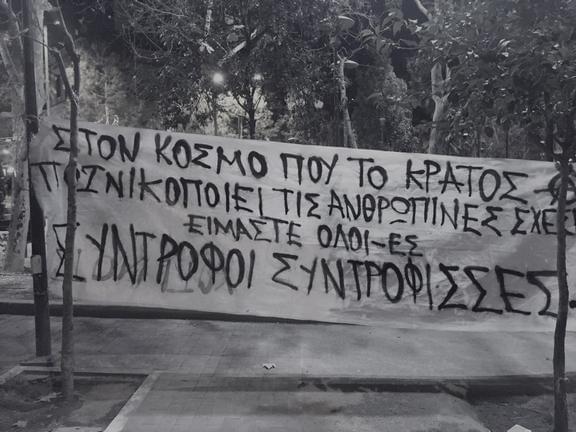 The first solidarity banner for the 4 comrades, Exarcheia 10th March 2020. Banner, "In a world that human relationships are being criminalized, we are all comrades"
Chronicle of the prosecution
On March 8th and 9th 2020, after a state security operation three male and one female comrade are arrested. Τhe authorities' sole piece of evidence was two cops having 'visually' identified the first arrested person on a video of the attack against the Mitsotakis* Foundation. The other three were arrested due to their friendly and comrade relationships. They now find themselves charged with an enormous case file which includes 55 attacks.
Based on the anti-terrorist Act 187A, they are charged with setting up and participating in an alleged terrorist organization under the name of "comrades" . The authorities are prosecuting the comrades based on attacks, actions and public addresses uploaded on counter-information platforms which had been signed using the term "comrades". In this way, the police are attempting to bring any political action signed by "comrades" together under the umbrella of a collective terrorist organization.
A few words on the construct of the organization "comrades", from the statement of the prosecuted female comrade in May 2020: /… / Behold then, the State, in its attempt to sell the ideological construct of "war against terrorism" fabricating organizations. They claim the terrorist organization they created by the name "comrades" to be a group that has acted since 2016 up to the present carrying out attacks in Athens. This reasoning goes beyond normality or reality in a way that can only be called ridiculous. In fact, the name of this infamous organization is but a sign-off used by the broader spectrum of anarchist/ antiauthoritarian groups for many years now. It was used, it is still being used and it will continue to be used. Anyone who searches can find hundreds of texts bearing the said signature all over Greece, most probably even abroad. This new stratagem, the use, that is, of a broader signature and its conversion into the name of a terrorist organization, is unprecedented and its only aim can be to "lump" together a wide, diverse and multi-faceted range of action on the part of the broader antiauthoritarian movement, as well as to terrorize all who belong there. It´s now the turn of the "solidary", the "anarchists", the "communists" to be called terrorist organizations and there's no end to the lumping /…/ Continue reading "Greece: We are all comrades: Support the 4 persecuted anarchists EN/GR/FR/ES/DE" →