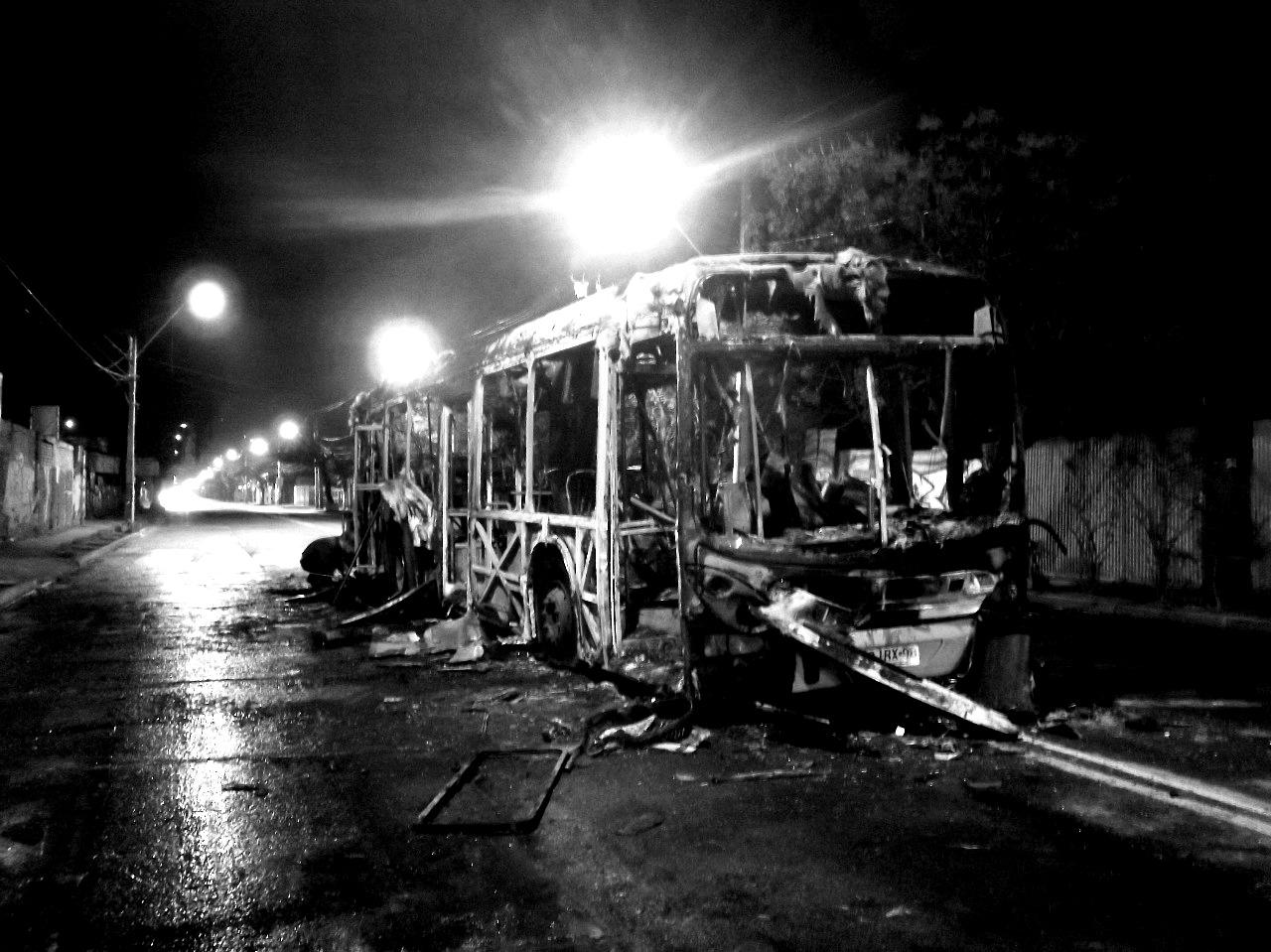 Note: The events that are claimed below happened on November 4 of last year, and their late date is explained by the fact that, in the words of the comrades themselves, it is "to be able to remember it with the aroma of the passing of time and to begin a new year of subversion and explosions."
(Received at informativoanarquista@riseup.net)
Santiago, Chile: Bus set on fire outside the Ex-pedagógico (UMCE) and armed confrontation against special forces of carabineros for the iconoclastic memory of Kevin Garrido and in solidarity with Alfredo Cospito and the comrades of the Susaron Case. (04/11/2022).
"We speak of a new war, a new partisan war. Without front or uniform, without army or decisive battle. A war in which the focal points are deployed far from the mercantile flows, although they are connected to them. We speak of a totally latent war. That has time. Of a war of position. Which is being waged where we are. In the name of no one. In the name of our own existence, which has no name" (How to do? Tiqqun).
About the action.
During a quiet and bohemian Friday afternoon at the Ex Pedagógico, while the citizen/student mass lives its lethargic and alienated youthful fun, a violent direct action took place. This action is framed within the so-called "Black November", where it is informally called to commemorate the life and death of comrade Kevin Garrido through the violent, diffuse and multiform attack. The action begins with our exit through the front of the university to proceed to cut off vehicular traffic in the area. We set up a barricade of tires and debris that we lit at the moment of intercepting a public transport bus. Our intention was to cross the bus horizontally to the street in order to cut off all traffic, however the driver of the vehicle blocked its driving, so we proceeded to set it on fire at the place of its interception with accelerating liquids. Without intending to harm the mass of citizens, we were constantly rebuked and repudiated for this action. We did not care and we responded verbally to their desperate insults and we were attentive to any onslaught that could emerge from any individual-citizen-cop with a craving for civil heroism, we shit on those people who, upon seeing armed comrades, dare to insult them, believing themselves -imbecilically- untouchable, voluntarily putting their physical integrity at risk in front of us. After this eventful moment, we entered the campus to wait for the police deployment and to receive it with all our strength: thunderous gunshots and a rain of Molotov cocktails hit the bodies of the squad of henchmen who naively took cover on the corner of Juan Gómez Millas street while the armored cars crossed the street. They clearly did not expect our means of attack to put their miserable lives at risk, which left a couple of policemen on the ground (apparently wounded by the shots) and provoked an almost immediate response: they shot at us with their service weapons and gassed the entire area of the front gate. After this counterattack, we used and unloaded all our material and disappeared fleetingly from the place.
Motivations.
This action -as we mentioned before- is part of the international campaign for a Black November in memory of the savage iconoclast Kevin Garrido, 4 years after his murder in the Santiago 1 prison. It is also a blow to the gears of capital that subject all forms of life to a lethargy of normality/passivity typical of a counterinsurgent period catalyzed by the democratic mechanisms of a social democratic government that has established an atmosphere of post-transition.
We abhor this reality and have no hope of reforming it, whether for democratic or "revolutionary" ends, so we attack it. Besides, hope (even the "hope of revolution") is just that: hope. We do not hope. We attack… "when hope dies, action begins" (Beyond Hope, Derrick Jensen). Let those who still believe in social and human redemption wait while their social bases are camouflaged according to the dictates of the government of the day. We no longer believe. We do not even believe in the Social Revolution that the prophets of anarchy occupy to embellish their babbling tongues and project a false image on the depressing reality of this world. We deny it. "The idea of "progress" is central to the modern Western paradigm in which the assumption that the whole world is moving towards an ever better future predominates. The idea of the inevitability or possibility of a global libertarian future arises from that belief" ("Desert", anonymous). We leave theoretical fables for the masturbatory leisure of academics. We are not part of any revolutionary tradition that dictates and imposes our practical work. Our action is Pleasure through destruction. We live our anarchy today and not in a "revolutionary" tomorrow.
Perhaps a burned bus, a few Molotovs and a couple of bullets will not put an end to domination. However, we prefer to contribute decisively to its destruction without any consequences. Our freedom is found in the attack, because it is only when we untie the chains of morality and the servitude of capital and decide to take action, that we conquer that freedom of which the old and dusty philosophy books talk so much. Continue reading "Santiago, Chile: Responsibility claim for bus set on fire outside the Ex-pedagógico (UMCE) and armed confrontation with special forces of the carabineros" →