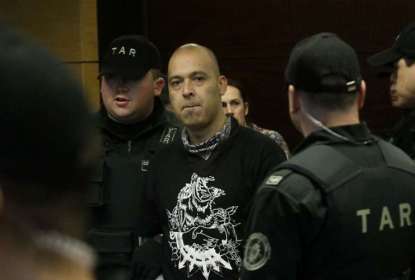 November 23rd, 2022
Source: Informativo Anarquista
Via & Translated by Act For Freedom Now!
Words of comrade Marcelo Villarroel from prison. From Chile to Italy –
A loud cry of insurrectional complicity for Alfredo Cóspito!!!
Alfredo Cóspito is an anarchist comrade from Turin imprisoned since September 2012 after the kneecapping of Roberto Adinolfi (on May 7), executive director of Italian nuclear company Ansaldo Nucleare. This act claimed by the "Olga" Cell Informal Anarchist Federation / International Revolutionary Front for which he was sentenced to 10 years and 8 months. He was also sentenced to 20 years (first degree), for the explosive attack on the Carabinieri training school in Fossano (Cuneo) on June 2, 2006, claimed by Terrible Anonymous Revolt – Informal Anarchist Federation, which provoked the state response through the operation "Scripta Manent".
Alfredo has been an anarchist comrade in active praxis for decades. Always consistent with his anti-authoritarian projectuality, he has maintained several antagonistic initiatives for which, even though he has been in prison for more than 10 years, the Italian fascist state does not forgive him.
In May of this year he was transferred to the Bancali prison in Sardinia where he was locked up under the 41 bis extreme isolation regime.
This prison regime was the Italian state's response in 1992 to the rising violence of the mafia.
Since then, political prisoners of the Red Brigades have also been imprisoned under the same regime. Continue reading "$hile: From Chile to Italy. A loud cry of insurrectional complicity for Alfredo Cóspito (Marcelo Villarroel)" →